Exploring World's Largest Casinos : Unforgettable Experiences Await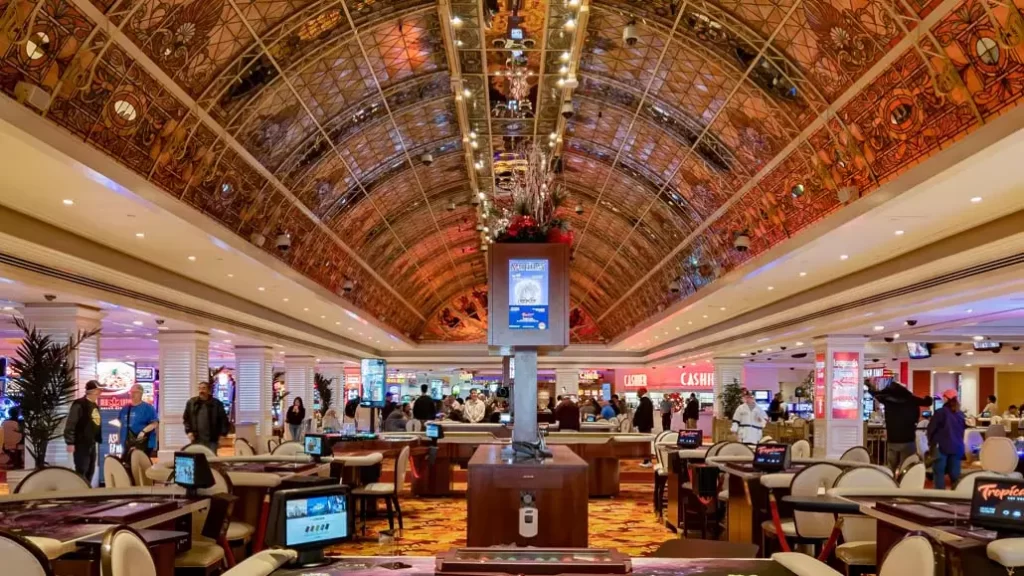 1. WinStar World Casino: A Spectacular Gaming Destination in Oklahoma
Huge casino with 600,000 sq ft of gaming space.
7,000+ slot machines and 100+ table games available.
Offers luxury accommodations, fine dining, and entertainment options.
Global Event Center hosts concerts and special events for up to 3,500 guests.
Draws visitors from all over the world despite being located in rural Oklahoma.
Thackerville, Oklahoma is home to WinStar World Casino, one of the biggest casinos in the world. It has a vast gaming floor spanning over 600,000 square feet, WinStar casono offers an unparalleled gambling experience. From nine themed plazas to over 100 table games and a poker room, visitors are spoiled for choice. The casino also features racetrack off-track betting parlors, keno, and bingo, ensuring there's something for everyone. Guests can enjoy a different selection of dining options, vibrant nightclubs, and live entertainment, along with a range of shops and boutiques. With over 800 rooms available, WinStar is an ideal destination for a thrilling overnight stay.


2. The Venetian Macau: Experiencing Venice's Splendor in the Casino Capital
Venetian Macau is one of the largest casinos in the world.
It has 3,400+ slot machines and 800+ tables.
The casino covers 546,000 sq ft.
Includes luxury hotel, dining, and shopping options.
Popular destination for tourists seeking entertainment and gambling experiences.
Situated on Macau's impressive Cotai Strip, The Venetian Macau is a marvel by itself. Boasting over 50,000 square meters of gaming space, the casino offers an extensive selection of tables, slot machines and other Gaming machines. Visitors can immerse themselves in the enchanting ambiance inspired the romantic streets and canals of Venice, Italy. Gondola rides, a replica of St. Mark's Square, and Michelin-star restaurants add to the allure of this remarkable destination. Families can enjoy a wide range of attractions, making it the perfect spot for a memorable vacation.
3. MGM Cotai: Luxury, Art, and Entertainment Combined
MGM Cotai is a popular casino resort in Macau.
It has 1,500+ slot machines and 300+ gaming tables.
Covers an area of approximately 1.4 million sq ft.
Includes luxury accommodations, fine dining, and entertainment options.
A favorite among tourists seeking a luxurious gambling experience in Macau.
MGM Cotai in Macau stands out with its ornate design and captivating features. The iconic golden lion welcomes guests to a world of grandeur and opulence. Inside, visitors are treated with an incredible LED wall display called The Spectacle, showcasing natural settings, artworks, and user-generated content. The resort offers Asia's first dynamic theater, a remarkable art collection, fine dining establishments, high-end retail stores, a luxurious spa, and VIP suites, it even has hotel towers and much more. MGM Cotai is a destination that seamlessly blends art, entertainment, and indulgence.
4. Ponte 16: Where European Glamour Meets Asian Heritage
Ponte 16 is a luxury casino and hotel in Macau, China.
It opened in 2008 and is popular among tourists.
Features over 400 rooms, restaurants, bars, and amenities.
Casino offers a range of table games and slots.
Has a collection of art and historical artifacts as well.
Ponte 16, located in Macau's charming historic quarter, is a sophisticated hotel and casino complex. It entices guests with its European elegance and Asian heritage. The cobbled forecourt, majestic neoclassical columns, and natural stone facade create an enchanting ambiance. Sofitel Macau at Ponte 16 offers spacious rooms with luxurious amenities, providing the perfect escape. Guests can explore nearby attractions such as St. Paul's Ruins and A-Ma Temple. With its array of restaurants, bars, recreational facilities, and an inhouse casino, Ponte 16 offers a world of "art de vivre" for discerning travelers.
5. The Majestic Rio Casino Resort in Las Vegas
Rio Casino Resort is a luxurious hotel and casino off the Las Vegas Strip.
It has over 2,500 renovated rooms and suites.
Visitors can enjoy table games and slot machines.
The resort features several world-class restaurants.
Offers entertainment like shows, comedy, nightclubs and bars.
Located in the bustling city of Las Vegas, the Rio Casino Resort provides an affordable yet unforgettable experience. The resort features 2,500 rooms, offering guests privacy and stunning views of the famous Las Vegas Strip. From economical all-you-can-eat buffets to fine dining steakhouses, the Rio offers a range of dining options to satisfy every palate. Guests can indulge in full-service spa treatments, tie the knot at one of the two wedding chapels, or relax at the VooDoo Beach pool complex, complete with lagoons, sandy beaches, and kid-friendly sections. The Rio Casino Resort is the perfect destination for those seeking excitement and value in the heart of Sin City.
6. MGM Grand Las Vegas: Iconic Luxury and Entertainment Galore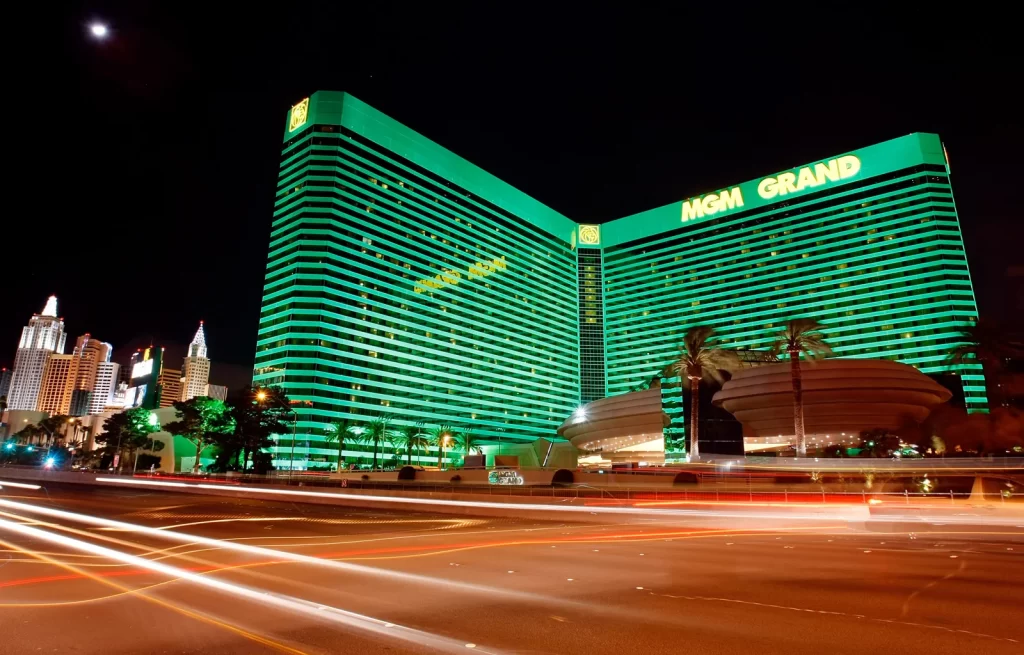 MGM Grand Las Vegas is a large hotel and casino on the Strip.
It has 5,000+ rooms and suites, making it one of the world's largest hotels.
The casino offers slots, table games, and sports betting over 171,500 sq ft of space.
There are fine dining restaurants, entertainment venues, and nightlife options.
Known for lion statue and "KÀ" Cirque du Soleil show in a custom-built theater.
MGM Grand Las Vegas, with its iconic emerald green facade, stands as one of the world's largest and most renowned casinos. Originally designed as a family-oriented resort, it has evolved into a premier destination for luxury and entertainment. The casino offers an extensive selection of table games, slot machines, and high-limit areas, catering to every type of gambler. Guests can indulge in world-class dining experiences, ranging from celebrity chef restaurants to casual eateries. The entertainment options are second to none, with spectacular shows like Cirque du Soleil's KA and mind-boggling illusions by renowned magician David Copperfield. The Grand Garden Arena hosts major musical and sporting events that attract visitors from around the globe. Other notable attractions include Brad Garrett's Comedy Club, offering laughter-filled evenings, and the electrifying performances of the Jabbawockeez dance troupe. MGM Grand Las Vegas truly embodies the essence of Las Vegas extravagance and entertainment.
7. Foxwoods Casino: North America's Gambling Haven
Foxwoods Resort Casino is a hotel and casino in Connecticut.
It has over 2,200 rooms and suites spread across several hotels.
The casino covers 340,000 sq ft and offers slots, table games, and poker rooms.
There are also restaurants, bars, and entertainment venues.
Hosts concerts and special events, making it a major entertainment destination.
Nestled in Ledyard, Connecticut, Foxwoods Casino is a mecca for gamblers in North America. As the fourth-largest casino in the world, it offers a wide range of gambling options, including face ID recognition machines and an impressive 870 card tables for various card games. Operated by the Mashantucket Pequot Tribal Nation, Foxwoods Casino provides an immersive gaming experience for both casual players and seasoned gamblers alike. The casino's extensive offerings and vibrant atmosphere make it a must-visit destination for those seeking excitement and entertainment.
In conclusion, the world's largest casinos offer an incredible array of gaming options, luxurious accommodations, top-notch dining experiences, and captivating entertainment shows. Whether you find yourself in Oklahoma, Macau, Las Vegas, or Connecticut, these casinos provide unforgettable experiences for visitors. From the vast gaming floors to the world-class amenities, these destinations truly exemplify the grandeur and allure of the casino industry.
List of Other Large Casinos
| Rank | Name | Location | Size (Square Feet) |
| --- | --- | --- | --- |
| 1 | The Venetian Macao | Macau, China | 10,500,000 |
| 2 | City of Dreams | Macau, China | 10,500,000 |
| 3 | WinStar World Casino | Thackerville, Oklahoma, United States | 600,000 |
| 4 | Venetian Resort Hotel Casino | Las Vegas, Nevada, USA | 546,000 |
| 5 | Sands Macao | Macau, China | 229,000 |
| 6 | City of Dreams Manila | Parañaque, Philippines | 201,823 |
| 7 | Tusk Rio Casino Resort | Klerksdorp, South Africa | 266,330 |
| 8 | Foxwoods Resort Casino | Ledyard, Connecticut, USA | 340,000 |
| 9 | City of Dreams Mediterranean | Limassol, Cyprus | 500,000 |
| 10 | MGM Grand Las Vegas | Las Vegas, Nevada, USA | 170,000 |
| 11 | Marina Bay Sands | Singapore | 160,000 |
| 12 | Resorts World Genting | Genting Highlands, Malaysia | 200,000 |